Sunday, October 26th
10:30 am Service – Our 7-week series on The Way of the Mystics continues with Jon West speaking on "Bede Griffiths: Integrating Eastern and Western Spirituality." A brief video will be sspehown. Note: The Silent meditation is now being held from 10:00 to 10:15 am in order to better accommodate the larger congregation. Unity Circles (merged with the After-Service Discussion Group) will gather upstairs from 12 noon-1:00 pm.
Before and After the Service – Galilean Pumpkin Sale in the Fellowship Hall. Proceeds will go towards providing Thanksgiving Dinners for two families in transition at the First Place Family Center.
Unity Circles meeting at noon – See more info at the bottom of this page.
A Message fromYour Ministerial Team
Signs of Infinite Love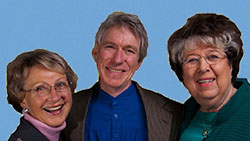 As Donna and I walked our dogs toward Tugman Park after a rainstorm, the sky opened.  Sunlight turned the street into a path of diamonds.  A breeze sweet and fresh whispered through the canopy of trees.  Autumn leaves came spinning down like little reminder notes of…something beyond words.  I felt an ancient yet ever-new remembrance of strolling through a cobblestone village by the sea.  I asked Donna "What is the flavor of this sky too you?"  She thought for a moment.  "Hopeful" was her answer.  
In Tugman park, someone passed by with a baby on their back.  The baby looked at us and our dogs with eyes of such piercing joy that I was mesmerized, struck to the core.  Yet even then, I knew I was perceiving only a tiny fraction of the spiritual reality within and around me.  In Unity, one way we attempt to describe that reality is the term "Infinite Love."  Some moment when we least expect, that Love will come roaring through like a flash flood, sweeping away all that we once clung to so desperately.  Until that moment, we can keep looking, keep opening, and keep tasting the flavor of the sky.
Infinite blessings,
Jon
This Week, October 20th - October 25th
Saturday (10:00 am-Noon) – A New Attitude: Living Healthy, Slim, and Trim. Join Florence Vollstedt in the Fillmore Wing for a fun and informative workshop on remembering what works! This fun and inspirational workshop will bring back the magic of changing your thoughts, changing your life the fun and easy way using Unity spiritual principles. Donation basis. For more information, contact Florence at 541-345-2726.
Next Week October 27th - November 1st
Tuesdays, October 28-November 18 (7:30-9:00 pm) – The Emergence of Energy Consciousness: Bringing Forth Our Evolutionary Calling. Join Dr. Jane Katra in the Fillmore Wing as she assists participants in illuminating and transcending ordinary mind, becoming conscious transmitters of life-giving energy, and more. Cost for the four-week series $25.
Saturday, November 1 (10:00 am-12:30 pm) – Heaven on Earth: Practicing Embodied Spirituality Practice Group facilitated by Kalia Bethany is held in the Fillmore Wing.  Donation Basis.  For more information, contact Kalia at 541-484-9341. 
Next Sunday, November 2nd
Daylight Savings Time Ends – Fall back by turning your clocks back one hour.
10:30 am Service – Our 7-week series on The Way of the Mystics continues with Jon Westspeaking on Mirabai: The Bliss of Spiritual Devotion.
Congregational Potluck & Come-Unity Meeting. Unity is starting the ALL NEW Congregational Potluck Sunday on the first Sunday of each month. November 2nd will be our first one. Bring your favorite dish to share after the service.  Our Board of Trustees will also be presenting the results of the congregational survey and a 3-year strategic vision.
Upcoming
Friday, November 7 (7:00-9:00 pm) The Friday Night Connection presents guest speakerSherrie Frank. Have you ever felt as if you were living someone else's life or felt confused about who you are and what you want? Come for an evening of exploration and fun as we learn ten steps to an authentic life.  
Saturday, November 15 (7:00 pm) –The Coming Alive Players present The 2nd Annual Ordnary Home Companion Radio Show with live old time music from the Old Time Players, lots of corny (but LOL) jokes and skits and some of the best singers in our congregation or anywhere. Donations accepted.
Sacred Service Opportunities
Kitchen Angels Needed - We have an opening for a closing Kitchen Angel on the 2nd and 3rdSunday of each month. A closing Kitchen Angel reports for duty during the offering time of the service and makes sure everything (coffee, cookies, cups, etc.) is set out and ready for after-service fellowship. The closing Kitchen Angel also loads the dishwasher, cleans counters, coffee carafes, etc. before leaving. Sign up in the foyer.
Office Angels Needed – We currently have openings for office angels on Tuesday, Thursday, and Friday afternoons from 1:00 to 3:00 pm. Our office angels answer the phone and perform light office work as needed. If this interests you, please sign up in the Fellowship Hall or call Géna at541-345-9913, ext. 11.
About Unity Circles
A Unity Circle is: a small group, ideally no more than 8, who support each other's personal and spiritual growth.  Some circles form around a specific theme. Existing Unity Circles include Heart Circles, our Elder Council, and our After-Service Discussion group. 
When, where, and how often they meet is decided by the Unity Circle itself.  Initially, people who sign up are contacted by a group host or facilitator. For example, Sherry Lady will be contacting those who have signed up for the Alzheimer/Dementia Unity Circle. Hosting and/or facilitating can also rotate among the members.
To get involved, join us Sundays upstairs at noon whenever you can through November 16th.  Also, look over the sign-up sheets in the Foyer or Fellowship Hall. Sign up and you will be contacted!  You can also belong to multiple circles.
A Unity Circle Leadership Team has developed a handout of recommended agreements, structure, and heart-centered processes. The goal is to deepen our experience of life-giving and transformational community in ways that are healthy, functional, and safe.
For more information or if you are interested in forming a Unity Circle, contact Karen Love Baisinger: karenbaisinger@gmail.com or 541-915-0335. Your Unity Circle will receive training, resources, and encouragement. 
UnityCircles:  (See our video at http://www.youtube.com/watch?v=ueceU1IPw0I. The power of small, heart-centered groups in healing lives and building dreams has been shown many times. To participate in or help start a Unity Circle, sign-up in the Fellowship Hall or emailunitvyal@riousa.com. 
Top of Page
Visit Unity's Facebook page at https://www.facebook.com/unityofthevalley.