Sunday, July 20th
10:30 am Service – Rev. Sherry Lady will be speaking on the topic of The Wavelength of Love.
-  After the service - UNITY'S ICE CREAM SOCIAL. Join us for ice cream, chit chat, games, and fun.  Everyone is invited so mark your calendars!
Summer Support for Unity:  Even while enjoying weekend adventures in the sun, you can conveniently keep supporting our wonderful spiritual center through Unity's SIMPLE GIVING automatic donation program.  To request a form, email unityval@riousa.com or call Géna at541-345-9913, ext. 11.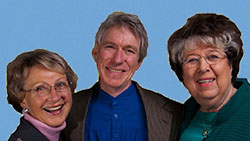 A Message fromYour Ministerial Team
WAVELENGTH OF LOVE
Each one of us is a noble seeker.  Every day we stand at the edge of life's challenges with a decision to make.  Do I follow the voice of doubt or fear? Or, do I faithfully surrender to the heart of God which invites me to open to a vision of life that is without limits?  Big questions with all sorts of possible consequences.  If we hesitate, even for a moment, doubts can take over as quickly as water pouring through a hole in a plastic bag.  The voice of fear and doubt has a very loud, impressive voice and it is ready to stop any forward movement, while we turn and walk away from what could be the most exciting moment in our lives.
Just as quickly, however, is the penetration of the voice from the heart of God when we choose to listen – swishing into our whole being with no leaks because it is inward movement, sealed by the covenant offered to us by the very Being of Love.  As in all moments of genuine love, this movement within your whole heart reveals that there are limitless dimensions of yourself that you have not yet experienced.  Such is the power of the wave of love when it connects with your inner essence.
This Sunday, together, we will give ourselves to love and hold the treasures of the heart in our hands, as we celebrate the things that are yet to be fulfilled in our lives.  What are they?  That depends on each of us individually, but there are seven different actions we can take, to help us find them. More about them on Sunday.
LOVE recognizes no barriers.  It jumps hurdles, leaps fences, penetrates walls, arriving at its destination vibrantly alive and full of hope.  ~Maya Angelou 
Blessings,
Sherry
UNITY FAIR & SILENT AUCTION: IT TAKES A VILLAGE!
-  Please register your donated items now for Unity's Silent Auction fundraiser!  The annual auction will be part of the August 10th Unity Fair to be held in Rev. Inge's beautiful backyard.  The fair will include fun and games for kids and adults.  Your auction item could be an object, a service, art, a vacation getaway, a weekend at a vacation home – you name it!  Pick up a form in the Fellowship Hall.
-  Fair Volunteer signup sheets will be in the Fellowship Hall this Sunday.  Volunteer needs include: help with set up and cleanup, food prep and cleanup, a rotating team of 5-6 barbecue cooks, assistance with children's games, face painting, etc.
Now is the time to join our sacred service team in helping make our first Unity Fair an awesome event for all!
NEXT WEEK, JULY 21st -26th
Wednesdays – 5:30-7:00 pm – Infinite Way Group in the Fillmore Wing.
Friday, July 25 – 7:30 pm – Concert with Charley Thweatt. Join us for Charley's "Love Remains" Concert. His songs are like journeys your soul has always meant to take. His stories call your heart forward.  $20 suggested donation.
NEXT SUNDAY, JULY 27th
- 10:30 am Service – Jon West will be speaking on the topic of Magnify Your Magic.
Upcoming

Saturday, August 2 – Jeffrey Martin Album Release Concert – 7:00 pm. Anna Tivel will open the show.  $10 at the door.
Sunday, August 10 - Unity Fair, Picnic and Silent Auction in Rev. Inge's backyard. Bring the family and share a wonderful afternoon with our spiritual community.  NOTE: It's a potluck, so bring your favorite dish to share!  Unity will provide the hamburgers, hot dogs, lemonade, and utensils. There will be games for the kids and the adults. And of course we have the Silent Auction too!  Funds raised will go towards our $10,000 goal for a ramp going up to the stage, a new outbuilding for storage, and banners for the sanctuary.
Sacred Service Opportunities At Unity
Finger Foods on Sundays –The groups providing soup are on hiatus through August. However, we have a signup sheet in the Fellowship Hall for anyone willing to bring fruits or vegetables (finger foods) during the summer. If you can provide this on a particular Sunday, please sign up!
Interfaith Juice Team Needed – We are seeking a team of volunteers to represent Unity by serving juice at the Interfaith Service held on the 11th of each month at First Christian Church (7:00-9:00 pm). Team members would rotate months in which they would serve the juice. Sign up in the Fellowship Hall.