SUNDAY LIVESTREAM SERVICE: Join us and many other friends of Unity live at 10:30 a.m. each Sunday at https://www.facebook.com/unityofthevalley (you don't have to be a Facebook member). Other links and news are posted after the message. Last Sunday's (3/26/23) service can be watched at https://www.facebook.com/unityofthevalley/videos/3-26-23-making-peace-the-power-of-nonresistance/473493261572330/.
IN THE PALM OF THE HEART
A message from Rev. Sherry Lady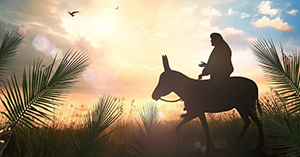 A young man of about 30 with shoulder-length dark brown hair stands wearily and gazes at the gate before him. His sandals, covered with dust from the journey to reach his destination, have also produced several blisters on his toes. Standing still relieves the pain. As he takes in the enormous stone gate before him and the high walls on both sides of it, his heart beats a little faster, his eyes mist with tears, and he trembles from the surge of energy in his body, mixed with some apprehension of his ability to live up to the task before him.
"What now, Father?" he asks. "How will I accomplish what I have been asked to do? So many are counting on me. Yet in this moment I cannot even put one foot in front of another. I don't know what to say or do. I beg of you to give me the courage and the words."
As the man contemplates what is to come, two of his fellow travelers who had arrived earlier come leading a rather shaggy, aging, four-footed animal. Its tail swishes back and forth as if to say, "I am ready to serve you."
"It was as you said," says the man leading the donkey. "There was no questioning when we told the stable owner what we had come for. He seemed to know and had already prepared this animal for you. How is it that he knew to do so?"
The animal's presence had a calming effect on the young man. Petting the donkey's head, he smiled at his friends. "My Father, besides being very wise, is very good at future planning."
Taking the donkey's rope and leading it toward the city gate, the young man's remaining fear was replaced by excitement as he heard the voices of many followers arriving behind him. The crowd was chanting "Hosanna, in the highest! This is your day, Beloved Teacher, and we want to share in it with you. Please let us join you."
Turning around, the young man shook his head in amazement. "Don't you know what you are letting yourselves in for?" he called out. "There will be much resistance to my presence once we enter the city. I cannot assure your safety."
"We do not care, Teacher, we want to go with you," they replied. "And we have told others of this time. They will be waiting inside the gate for us and give us all safety. Blessed be you on this day."
After the suspicious gate guards reluctantly cleared the crowd for entry, they formed a line on each side of the young man. Raising and waving the palm branches they had been using to shade themselves on their journey, they chanted, "Blessed is He who comes in the name of the Lord." Their chants were heard resounding inside the gate where a second crowd gathered and merged with the first. The noisy procession moved forward into the heart of the large city where it faced an uncertain future for each and every person. The young man's heart began to beat as if it would leave his chest and his eyes filled with tears once again. Inwardly he prayed, "I am not adequate. Why do you ask this of me?"
The answer was heard only in his heart. "Because for this were you born. I love you and will be with you now and through all time as I am with all people everywhere."
A woman with graying hair came close to the young man and touched him on the leg. "Master," she said, "as you show us the way, we see your courage and strength and we give you our love. My name is Anna, dear teacher. I do not wish you to face what lies ahead. But I know you cannot be stopped because it is in your heart to give the message and do this work of love. I walk with you."
A very young boy stroked the leg of the donkey and then reached up to take the young man's hand, which he gave willingly. "Teacher, be careful. Simon (indicating the smaller boy walking with him) – Simon and I want to hear your stories whenever you can sit with us."
The light from the young man's eyes enveloped the two boys, the woman Anna, and all those walking with him. He felt love for them swell within his heart. In that moment his strength and determination fully returned and his plans for continued teachings of love, acceptance, compassion, and peace began to unfold and fill his mind with thoughts of the days ahead.
As we near the celebration day of Palm Sunday, may our hearts and minds be filled with gratitude for the life and teachings of this young man as well as all who have diligently and unselfishly offered the teachings of love, acceptance, compassion, and peace. May they see the realization of these things in the days ahead beginning in this very moment within us. It's what the world needs now.
In awe of it all.
Love,
Sherry
*******************
Our April Bulletin has been posted. You can check it out at
http://unityofthevalley.org/pdfs/April%202023.pdf.
THIS WEEK AT UNITY, MARCH 29-APRIL 1
WEDNESDAY
- 2:00-3:00 p.m. via Zoom – Community Connect moderated by Rev. Dick Everts. This is a one hour, drop in, chatting session for discussing topics of spiritual interest, personal growth, etc. There is a new topic each Wednesday. To take part, send an email request to Rev. Dick at richard.everts@comcast.net.
- 5:00-6:00 p.m. - Unity Grief Support Group co-facilitated by Rev. Inge Tarantola and Nancy Morrow meets in the upstairs Fillmore Wing and via Zoom. Confidentiality observed. For more information, contact Rev. Inge Tarantola at 541-968-5540 or ingetar@pacinfo.com.
THURSDAY
- 1:00-2:30 p.m. – Unity's Elder Council meets in the Garden Room. If you are 60 or older and would like to explore the journey and wisdom of elderhood, please join us. For more information, contact Julia Linebarger-Taylor at jlinebargertaylor@yahoo.com or 541-968-5896. (This group meets on the last Thursday of each month.)
- 5:30-6:45 p.m. – Passage Meditation in the Fillmore Wing. This group practices "Passage Meditation" as taught by Eknath Easwaran. For more information, contact Laurie Cracraft at 541-554-5434.
SATURDAY (10:00-11:30 a.m.) via Zoom – $1 Gong Bath Relaxation + Free Optional Sharing Time with Sunny & Vicky Hills + Laura, Inge, and other Unity of the Valley Members who attend often. We Welcome You! Register at: https://sunnyhillsmeditation.com/.
THIS SUNDAY, APRIL 2
- 10:30 a.m. Livestream & In-Person Service – "Palm Sunday with Rev. Sherry Lady and Rev. Inge Tarantola
- 12:00-1:00 p.m. – Healing Prayer Circle meets in the upstairs Fillmore Wing. We offer healing prayer to individuals who request it. All are welcome to join us. For more information, contact Rev. Inge Tarantola at 541-968-5540.
NEXT WEEK, APRIL 3-8
MONDAY
- 7:00-8:30 p.m. – Choir Practice in the Sanctuary. If you would like to be a part of the choir, contact Mo Robeson at 541-520-8489.
TUESDAY
- 7:00 The April 4 Behind the Lens Seminar film is Scarlet Street, directed by Fritz Lang, followed by a Q&A session with Tom Blank. Cost is $30 for series or $5 per time.
THURSDAY
- 2:00-4:00 p.m. – Prayer, The Game Changer with Rev. Inge Tarantola. This class is an opportunity to take a look at how you pray now, learn steps to affirmative prayer, and create a daily spiritual practice. This class is a prerequisite to joining the prayer ministry and a stepping stone to becoming a prayer chaplain. Offered on a donation basis. SEE credits available. (Meets - Thursdays, April 6-27) Sign up in the Fellowship Hall.
- 5:30-6:45 p.m. – Passage Meditation in the Fillmore Wing. This group practices "Passage Meditation" as taught by Eknath Easwaran. For more information, contact Laurie Cracraft at 541-554-5434.
- 6:30-8:00 p.m. – Unity's Coming Alive Theater Group in the Sanctuary. Please join us for playing theater and improv games and for enjoying the experience of being an actor as well as an audience member for short skits and scenes in a no-stress gathering. For more information, please contact Doris Hicks at 458-205-8570 / dlhlibrary@aol.com or Alice Sparks at 971-254-7564 (This group meets on the 1st & 3rd Thursday of each month.)
NEXT SUNDAY, APRIL 9
- 10:30 a.m. Livestream & In-Person Service – "The Inspiration of Easter" with our Unity Ministerial Team of Inge, Sherry, and Jon.
- 12:00-1:00 p.m. – Healing Prayer Circle meets in the upstairs Fillmore Wing. We offer healing prayer to individuals who request it. All are welcome to join us. For more information, contact Rev. Inge Tarantola at 541-968-5540.
UPCOMING IN APRIL
SATURDAY, APRIL 15 (11:00 a.m.) – Celebration of Life Service for Ann Woeste and Jerry Woeste. Please join us for the celebration and the reception that follows.
UNITY COMMUNITY HAPPENINGS/OPPORTUNITIES
MEAL TRAIN FOR ALISON, ANDY, & EMMA: Last Sunday we mentioned providing meal support for Andy Peara, Alison Cantril, and their daughter, Emma. This link https://mealtrain.com/2nn0n7 will inform you of the reason and duration of the need. Thank you all!
Unity Food Drive – Thank you for helping us to continue filling the barrel in the foyer with shelf-stable food (i.e., canned or no refrigeration needed) for Food For Lane County. Together, We Are Making a Difference!
SUNDAY GATHERING FOR YOUTH
UNIKIDS (KINDERGARTEN-5th GRADE) We currently offer fun and inspiration for the kids. There is a puppet show each Sunday for the first 10 minutes. Parents are asked to drop off their children starting at 10:20 a.m.
UNITY TEEN GROUP (grades 6-12). The Unity Teen Group meets on Sundays from 10:25 to 11:25 a.m. in the Rainbow Room with guidance from Jim Drews. Jim brings a deep and practical understanding of Unity principles and how to help youth develop their spiritual powers through creative exploration and fun activities. The Rainbow Room is in the Fillmore Wing of Unity, first door to the left of the stairway.
JOIN THE TEEN TEAM! Can you see yourself sitting in with Jim and our teens once a month for a three-month period? Having that extra adult energy would be very helpful. We envision a rotating group of 4-5 adults each quarter. Please inquire with Jon West by emailing jwest97405@gmail.com or calling (541) 683-7664.


**********************
UNITY'S SIMPLE GIVING PROGRAM
Unity of the Valley's Simple Giving Program is an easy, automatic means by which you can give gifts or tithes to the church in the amount you specify at the frequency you select. To sign up and for more information, click http://www.unityofthevalley.org/pdfs/simplegivingform.pdf. If you have any questions, contact our Administrator, Géna, at 541-345-9913, ext. 11.
**********************
Your Prayer Team is Here for You!
Do you have a prayer request? Email Rev. Inge Tarantola your name and prayer request at ingetar@pacinfo.com.
*********************
Unity of the Valley's 2023 Congregational Meeting can be found at
https://www.facebook.com/unityofthevalley/videos/unity-of-the-valley-2023-annual-meeting/2366805796815790.
Unity of the Valley's Music Releases can be found at
https://www.facebook.com/unityofthevalley/videos/368369060857899/.
"Connecting from the Heart" is now an independent nonprofit organization, working closely with Unity of the Valley. To enjoy their music, meditation and mental wellness videos, please click on this link: cfth.us.org.
We also post Unity videos, when possible, at: https://www.youtube.com/channel/UCqUL3d7-JjO_45Bo3vLfrWQ/videos

**************************
OUR SPIRITUAL COMMUNITY SUPPORT FUND
The Unity Board has approved the creation of Our Spiritual Community Support Fund. This fund was inspired by a Unity member who offered her government stimulus funds to assist individuals in our spiritual community who need it most.
WAYS YOU CAN CONTRIBUTE FINANCIALLY
Send a check to Unity of the Valley, 3912 Dillard Rd., Eugene, OR 97405 with a note designating if it's for OSCSF or general Unity finances.
Send a donation through PayPal using the yellow DONATE button below.
This can be a one-time donation, repeated as often as you wish for different amounts, or a monthly recurring donation for a set amount. Make sure you designate whether you want your donation to be applied to OSCSF or to general Unity finances.
Send an email to unityval@riousa.com stating that you wish to pledge a certain amount, possibly from your government stimulus check to the OSCSF or to general Unity finances. Give your phone number so Géna can contact you to arrange how and when you wish to donate.
You can write a letter stating you wish to join our Simple Giving Fund to contribute a set amount (state the amount) on a regular basis (state how often) with your bank account routing and account number. Just designate what portion should be used for OSCSF or general Unity finances. Géna, our Office Administrator, opens all our mail in private. So, it is safe to include your account information in a letter, but not in an email.
IF YOU NEED MONETARY ASSISTANCE
To request monetary help, you can write a letter or an email (unityval@riousa.com) directed to the Ministerial Team. Please include the following information:
1. Your name, mailing address, phone number, and email address.
2. Your association with Unity of the Valley.
3. Name of reference at Unity of the Valley (someone who knows you).
4. Brief description of your financial need.
5. How much you are requesting.
6. Do you think your financial needs will require monthly support?
Requests for monetary help will be reviewed by our Ministerial Team. If a request is approved, the amount granted will be dependent on how many requests we receive and how much money is available in the OSCSF.
Thank you all for being an integral part of our loving and supportive community.
---
Facebook Users: Did you know that you can help spread the word about Unity of the Valley and its events?  By Liking the Facebook page and then clicking "Like" or "Share" on individual posts, you can let Facebook know that these posts are important and make sure that the posts are seen by MANY more people.  Please take a moment now to Like the page (if you haven't already) and share a Unity post with your friends. 
Unity's Facebook page is at:
 https://www.facebook.com/unityofthevalley 
Subscribe to our YouTube channel at https://www.youtube.com/channel/UCqUL3d7-JjO_45Bo3vLfrWQ