Sunday, August 31st
10:30 am Service – Guest Speaker Tom Blank will shine a light on the Spirit on Film. Tom first came to Hollywood in 1965 as a US Navy public relations officer assigned to liaison with the motion picture industry. In 1968, he worked in the story department at Columbia Pictures, and in 1970 he joined the Directors Guild of America, working as an assistant director and director until his retirement in 2005. Tom worked in Hollywood for over 30 years on features and episodic television, including such titles as Airwolf, The Bionic Woman, Murder She Wrote, and many more. Silent meditation from 10:00-10:20 am.  After-Service Discussion Group from 12 noon - 12:45 pm.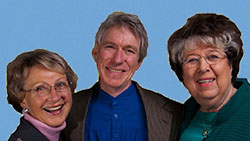 A Message fromYour Ministerial Team
SNEAK PREVIEW
Every person in our midst at Unity is a treasure — just spend a little time getting to know someone, and you discover a whole new face of the Divine.  This was my experience recently as I shared some fascinating (at least for me!) conversations with longtime Unity member, Tom Blank.  
Tom not only has a wealth of knowledge on a variety of subjects, but he also has keen insights on life as a whole. As a Hollywood professional for many years, Tom had an inside view on the creation of some of the drama and adventure stories that captivated me as a youth.  I went on to major in Telecommunications and Film at the U of O, interested in the potential of motion pictures to shape and inspire hearts and minds.  Fast forward to 2014: people are regularly sharing video clips over the internet, bringing a smile or a thoughtful pause to someone's day.  Lives are sometimes changed as a result.  
And so I approach Tom's upcoming talk at Unity like a child sitting down in a darkened theater, readying myself to enter a new world.  There are treasures in store for us, I have no doubt!
In gratitude for this wonderful community,
Jon West
Next Week, September 1st - September 6th
Tuesday (12:00-1:00 pm) – Prayer Shawl Ministry Gathering in the Fellowship Hall. This group (which meets once a month) knits and crochets prayer shawls that will bless people who are going through a difficult time with a gift they can wrap around themselves to bring comfort, love, and peace. No experience necessary. Come and join us!
Thursday – Therapeutic Touch (7:00-9:00 pm) in the Fillmore Wing. Donation basis. For more information, please contact Bev Forster at 541-484-6571.
Friday
- 11:30 am-1:30 pm – Joy of Watercolor. Join Ellen Ticknor in the Fellowship Hall on Fridays and explore painting with watercolor in an encouraging and fun atmosphere. The emphasis of the class is on joy.  All skill levels welcome. Donation basis. This class is also held on Mondays starting September 8 from 10:00 am to 12:00 noon.
- 7:00-9:00 pm – Shamanic Evening. Join us in the Sanctuary for this wonderful evening of drumming, toning, and connecting to spirit. Led by Gary Wymore and Sunny Schneider. Donations accepted.
- 7:00-9:00 pm – A Youth & Family Ministry presentation: Playing with our God-Selves. Calling all families, children, and staff to join us at Unity of the Valley for a celebration of our Youth ministry.  We'll get to know each other better as we connect in a time of fun.Chris Castaldi, Youth Consultant for the NW Region of Unity Churches, will guide our evening. Also joining the evening is singer and songwriter Mark Stanton Welch! Fun, games, and refreshments. Free. Love offerings accepted. Pick up a registration form in the Fellowship Hall.
Saturday
- 9:00 am-4:30 pm – Playing with Our God Selves Teacher Training. Chris Castaldi (see info above) will facilitate training for seasoned and beginning Youth Ministry Teachers, Assistants, and Sponsors.  Also joining us on Saturday is singer and songwriterMark Stanton Welch. Covered in this remarkable day will be establishing a trustworthy and positive environment, exploring what makes that so, how creating a mindful environment allows Spirit to be expressed in all our youth ministry activities.  This training is being offered to all the Unity churches in the NW Region. To register for this great day, pick up a registration form in the Fellowship Hall.
- 10:00 am-Noon – A Prayer Enrichment with author Celeste Yacoboni. Join us in the Sanctuary on Saturday, September 6 from 10:00 am to Noon. Celeste's presentation will include information and insights about prayer from spiritual guides, religious leaders, healers, activists, and other lovers of humanity who were asked the question How do you pray?" There will also be Q&A time and a book signing. 
NEXT SUNDAY, SEPTEMBER 7
- 10:30 am Service – Guest Speaker and Musician Mark Stanton Welch will be speaking on the topic of The Power of Mystery. Mark is a singer, songwriter, sound alchemist, performer, visionary, facilitator of change, and educator. For over 25  years his creations have touched and inspired the  hearts, minds, and spirits of New Thought audiences worldwide.
-  11:45am-12:45 pm – Youth Clothing Exchange.  The Youth & Family Ministry will be holding a gently used clothing and accessory exchange for ages 0-18 years old. Drop off clothing between 9:30-10:30 am in the Rainbow Room. The exchange begins at 11:45 am.  All left over items will be donated to St. Vincent DePaul or Goodwill.  Questions, contact Ruth at541-913-3235.
COMING IN SEPTEMBER
Monday, September 8 (6:00-8:30 pm) – Unity Open Men's Circle Potluck – Join the men of Unity in this open circle. Raymond Albano, Jim Drews, John Freshwater, and Jon West have been collaborating on the creation of this new Men's Circle.  It is open to all men, both within our church and in our larger Eugene community. The vision of this Men's Circle is a safe container where a man can openly and authentically share about his life, with the support and in the company of other men.
Wednesday, September 10
- (10:00-11:15 am) – the Spiritual Exploration Group presents What's Going on in Israel, and Why? Join Tom Blank and Rev. Sherry Lady for a spiritually engaging and historically fascinating look at the foundation of the world's major faiths and more.  Everyone welcome.
- 5:45-7:00 pm – Getting Started: An Introductory Yoga Series with Donna O'Neil.If you are brand new to yoga or it's been a long time, this is the yoga series for you. Join Donna in the Sanctuary as she guides you in beginning a safe practice of yoga.  Advanced registration required. Contact Donna at yogawithdonna@gmail.com or 541-683-7664. Price: $36.
Thursday, September 11 (12:00-6:00 pm) – Unity World Day of Prayer. We are the light of the world. Let your light shine at Unity's World Day of Prayer. We start at Noon in the sanctuary with an opening ceremony and continue the day with meditation, silence, and a closing ceremony at 6:00 pm.  Join us for any or all of this day!
Friday, September 12 (7:00-9:00 pm) – ALL NEW!! The FRIDAY NIGHT CONNECTION is a series of life-enriching presentations from a variety of authors and guest speakers.  For our kickoff Friday, Tigmonk will speak on The Practical Application of Spiritual Insight and Wisdom. Tigmonk is described as a modern-day mystic, someone in intimate communication with the source of life. His gift is to clarify the experience of being human so Joy can be seen.  Tigmonk is an author, speaker, poet, father, and lover of life. His teachings/sharings go beyond mere intellect, and reach deep into the heart making it quite clear that real liberation from suffering and conflict is a journey that begins and ends with our most Sincere Self.  Suggested love offering: $10
Tuesdays, September 16-October 7 (7:30-9:00 pm) – Awakening Your Power of Now: Embracing the Impulse to Evolve. Join Jane Katra, Ph.D. for a 4-week class on embracing the impulse to evolve.  Love offerings accepted.
Wednesdays, September 17-October 22 (6:30-8:00 pm)– Exploring the Divine Matrix. Join Michael Tanner for five Wednesdays (skipping October 15) as he leads us in the exploration and discussion of Gregg Braden's book, The Divine Matrix.  The book is available in the Unity Bookstore. Love offerings accepted.