Sunday, September 21st
10:30 am Service – Rev. Sherry Lady will be speaking on the topic of The Power of Story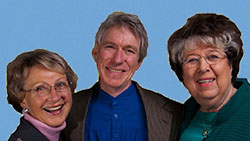 A Message fromYour Ministerial Team
What Is Your Vision?
Several months ago, a vision arose within me of restoring the loving connection my older brother and I haven't shared in 30 years.  Our life paths are very different.  While I live and work primarily in one community, my brother is retired and has homes in California, New York and Barbados, which I've never been to.  Yet, soon after my vision, my brother organized a reunion with him, myself, and our father on the Oregon coast. We enjoyed many hours reliving the fun and games of our youth.  A deep and loving connection was undoubtedly felt. 
Sometimes, just opening to our inner vision is enough to make it happen.  But most visions require a bit more attentive persistence to unfold.  Along the way, there may come a time when forces seem stacked against you.  Someone you love and respect may misunderstand you or take personal offense to an innocent mistake.  You may face a physical challenge that slows or halts your progress.  Yet if your vision is true – inspired by a heartfelt calling that serves the highest good of all concerned – you will find an extra reserve of strength and faith.  Holding the course, the winds of resistance will begin to shift.  And what was meant to be...will be.
In loving support of your deepest vision,
Jon   
P.S.  Several leaders in our congregation have nurtured a vision of bringing our community togetheron Friday evenings to hear wonderful guest speakers.  That's how The Friday Night Connection was born – and it begins this Friday!  You never know when the right door is going to open to a new vision for life.  Our Friday Night Connection may be that door for you!
This Week, September 15th - September 20th
Tuesday - Board Meeting (6:30 pm) in the Garden Room. All are welcome to attend. If you would like to speak at the meeting, please contact John Freshwater at freshwater541@gmail.com.
- (7:30-9:00 pm) – Awakening Your Power of Now: Embracing the Impulse to Evolve. Join Jane Katra, Ph.D. for a 4-week class on embracing the impulse to evolve. Love offerings accepted. Wednesday
- (10:00-11:15 am) – the Spiritual Exploration Group presents What's Going on in Israel, and Why? Join Tom Blank and Rev. Sherry Lady for a spiritually engaging and historically fascinating look at the foundation of the world's major faiths and more. Everyone welcome.

- (6:30-8:00 pm)– Exploring the Divine Matrix. Join Michael Tanner for five Wednesdays (skipping October 15) as he leads us in the exploration and discussion of Gregg Braden's book, The Divine Matrix. The book is available in the Unity Bookstore. Love offerings accepted.

Thursday (7:00-8:30 pm) – Coming Alive Theater Group meets in the Sanctuary. They will begin play on a "radio style" Variety show scheduled for Saturday, November 15. Come join in the fun of putting a show together. For more information, contact Sunny at 541-461-5663.

Friday and Saturday (10:00 am-12:30 pm) – Heart Intelligence Practice Group in the Fillmore Wing. Donation basis. For more information, contact Kalia Bethany at 541-484-9341.