Sunday, July 27th
10:30 am Service – Magnify Your Magic will be Jon West's theme.  We will explore the true magic of life: that the ultimate power and Source dwells in each of us.  Even now this power is radiating not only into our community, but across the universe.  How can we experience this reality at a deeper, more fulfilling level?
Summer Support for Unity:  Even while enjoying weekend adventures in the sun, you can conveniently keep supporting our wonderful spiritual center through Unity's SIMPLE GIVING automatic donation program.  To request a form, email unityval@riousa.com or call Géna at541-345-9913, ext. 11.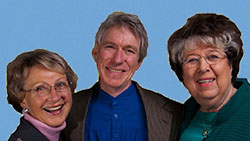 A Message fromYour Ministerial Team
Warm and Fuzzy Magic
As the famous anonymous quote says (mistakenly attributed to Goethe): "Whatever you can do, or dream you can do, begin it. Boldness has genius, power, and magic in it!" 
So what are we doing to share the beautiful magic of our Spirit with the world? My two little dogs might answer this way:  "Gee Dad, every time you walk us in our neighborhood, we steer you toward two different houses where we've made doggie friends.  We want to say hello, brighten their day, and clean up any stray crumbs off their floor." 
Through the boldness of our magical dogs, Donna and I now have an open invitation to show up uninvited at both of these houses.  Once inside, Sugar and Sparky cheerfully greet all the inhabitants whether two-footed or four.  Then they are free to snoop, sniff, and nibble whatever they find.  
Ah, the joys of having a purpose and fulfilling it.  It's truly one of the best ways to make sure we're shining our Inner Light where it's needed and wanted.  Some of our animal friends know this even better than people! 
Joy and blessings on your path,
Jon West
Unity Fair and Silent Auction: It Takes a Village!
-  Please register your donated items now for Unity's Silent Auction fundraiser!  The annual auction will be part of the August 10th Unity Fair to be held in Rev. Inge's beautiful backyard.  The fair will include fun and games for kids and adults.  Your auction item could be an object, a service, art, a vacation getaway, a weekend at a vacation home – you name it!  Pick up a form in the Fellowship Hall.
-  Fair Volunteer signup sheets will be in the Fellowship Hall this Sunday.  Volunteer needs include: help with set up and cleanup, food prep and cleanup, a rotating team of 5-6 barbecue cooks, assistance with children's games, face painting, etc.
Now is the time to join our sacred service team in helping make our first Unity Fair an awesome event for all!
Next Week, July 28th - August 2nd
Friday (7:00-9:00 pm) – Shamanic Evening. Join us in the Sanctuary for this wonderful evening of drumming, toning, and connecting to spirit. Led by Gary Wymore and Sunny Schneider. Donations accepted.
Saturday, August 2 – Jeffrey Martin Album Release Concert – 7:00 pm. Anna Tivel will open the show.  $10 at the door.
Next Sunday, August 3rd
10:30 am Service – Rev. Inge Tarantola will be speaking on the topic of Inner Peace.
Upcoming

Sunday, August 10 - Unity Fair, Picnic and Silent Auction in Rev. Inge's backyard. Bring the family and share a wonderful afternoon with our spiritual community.  NOTE: It's a potluck, so bring your favorite dish to share!  Unity will provide the hamburgers, hot dogs, lemonade, and utensils. There will be games for the kids and the adults. And of course we have the Silent Auction too!  Funds raised will go towards our $10,000 goal for a ramp going up to the stage, a new outbuilding for storage, and banners for the sanctuary.
Sacred Service Opportunities At Unity
Finger Foods on Sundays –The groups providing soup are on hiatus through August. However, we have a signup sheet in the Fellowship Hall for anyone willing to bring fruits or vegetables (finger foods) during the summer. If you can provide this on a particular Sunday, please sign up!
Interfaith Juice Team Needed – We are seeking a team of volunteers to represent Unity by serving juice at the Interfaith Service held on the 11th of each month at First Christian Church (7:00-9:00 pm). Team members would rotate months in which they would serve the juice. Sign up in the Fellowship Hall.