10:30 a.m. Sunday Service – A Time for Spiritual Connection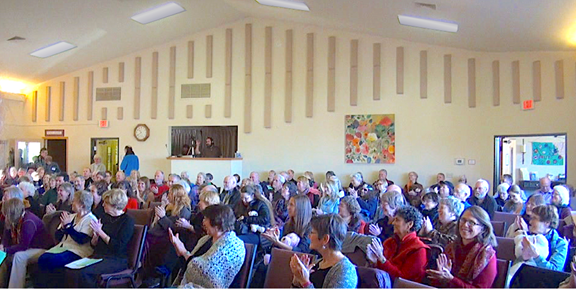 Our Sunday services are powerful, positive, practical, and fun! You'll experience great music, friendly people, and an inclusive, welcoming atmosphere.  The message is always relevant, helping you move through everyday challenges into ever-expanding fulfillment and joyful oneness with all of life.
Q: What if I'm not a "church person"?  People who've had negative experiences in the traditional church environment often describe Unity as a much-needed alternative. We are very consciously a place where:
Everyone is accepted as a divine being and with unconditional love;
Holiness is viewed as an innate quality of life, not something achieved by adopting a specific religious label;
We claim no unique teachings or special status, but strive to understand and experience universal principles taught by saints and sages in many cultures (click here to see our 5 Basic Principles).
There is no required belief or dogma. Everyone is encouraged to use critical thinking and test what we teach rather than simply be a believer.
Check us out any Sunday and experience the difference. We think you will feel at home at Unity of the Valley.