Youth & Family Ministry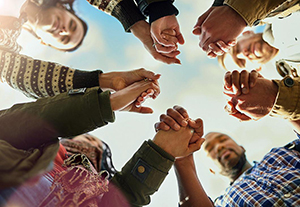 UNIKIDS – KINDERGARTEN THROUGH 5TH GRADE
Our Unikids meet on Sundays 10:25-11:25 a.m. with a puppet show, creative activities, songs, games, meditation, and prayer to ground their body, mind, heart, and spirit as they enhance their understanding of God in their being and in the world. The group is led by Alice Sparks, with her years of experience as a Unity prayer chaplain, teacher, parent, and grandparent and by Doris Hicks, puppeteer.
UNITY TEEN GROUP – 6th-12th GRADE
The Unity Teen Group gathers on Sundays 10:25-11:25 a.m. with guidance from Jim Drews. Jim brings a deep and practical under-standing of Unity principles and how to help youth develop their spiritual powers in daily life. For example, we can see the power of STRENGTH modeled by spiritual giants such as Martin Luther King, Jr., Gandhi, and the Dalai Lama. The teens share how they have each faced daily situations that require the strength of conviction and compassion. UNITY TEEN GROUP PURPOSE STATEMENT: Our purpose in coming together is to share a supportive trust culture focused on mindfulness, expressing our higher self, and experiencing our oneness with the Source of all life through creative exploration and fun activities.
YOUTH AND FAMILY MINISTRY PRAYER
In each sacred hour, Youth and Family Ministry welcomes every child and every family into the loving Heart and caring Hands of the Divine. Each one is a radiant expression of the Christ-Light, unfolding in perfect time, guided by their inner presence of Wisdom. We see and acknowledge this Presence in each of us and in everyone we encounter each day in our spiritual home and in the greater community.
And so it is.
WHAT WE TEACH

SIX BASIC TRUTHS

Reality is the infinite consciousness of God, the one power and source of all that is.
Every Person is an eternal, individual expression of God.
Daily Living is the highest way we know.
Spiritual Practice is deep silence, creative prayer work, and …
Our Life Experience is mainly a reflection of the thoughts we hold in mind.
We make use of God's power by living in harmony with God's laws, letting the spirit of love direct our every thought, word, and action.

HOW WE TEACH THESE SIX BASIC TRUTHS

Prayer and meditation (centering)
Scriptural study

History and geography of the story
Metaphysical interpretation
Practical application of spiritual principles

Affirmations and denials
Object lessons
Spiritual singing and dancing
Arts and crafts
Storytelling, drama, puppetry, etc.
Group discussions
Heart talks (unconditional love and acceptance)
Creative writing
VOLUNTEERS FOR CHILDREN AND TEENS
If you love children and are ready to grow and learn, we have many opportunities in our Youth & Family Ministry. If you are not available to teach or assist on a weekly basis, it's okay. We have a team approach to making a difference in the lives of our children and teens. We also offer the opportunity to "Share Your Joy" by sharing a talent or project for one hour on one Sunday. We are here to offer a positive, uplifting experience for children of all ages, from baby and toddler to high school.

Possible Volunteer Roles

Volunteer Title

What Does Volunteer Do?

Greeting Angel

• Greet/register children
• Direct to appropriate places

Supply Room Angel

• Monitor/track inventory supply
• Set up, put away, order supplies

Youth & Family
Ministry
Volunteer Coordinator

• Keep records of all volunteers in program
• Contact volunteers as needed
• Contact new families

Teacher

• Prepare lesson well in advance
• "Sit" with lesson allowing Spirit to help you understand it • Pray for guidance and for your children
• Test any activities you are unclear about
• Gather all supplies needed, if not done for you